Crazily it's now the end of November, and therefore time for my monthly bucket list post, this time for December 2015. It may not be quite December yet….but I may already have my Christmas tree up, anyone else want to confess to that?!
Every month I use this post to set myself goals for the coming month, and to let you know how I got on with the previous month's goals. First here's how my November goals have gone.
Increase my stats and followers – At the end of last month there had been 58164 site views on my blog, there have now been 70841 views to my blog since I started it in January this year – not long til my first blog birthday! This month has been my highest ever number of views, which may have made me a little bit smiley.
My Twitter was at 8326 followers and now I have 9200
My Facebook page was at 1026 likes, and now has 1142 – this one is definitely the one I find hardest to grow by far, but this means it gives me even more satisfaction when it does go up!
Instagram was 3639 now 4241

Pinterest was 3688 and now is at 3906
Tots 100 – I am currently number 118 out of over 8000 blogs, so that's six months of being in the top 200 now.
Lose 6 lbs – I very almost succeeded at this one, I lost 5 lbs this months…if only I hadn't put weight on last month, but still it's going in the right direction and I'm feeling a lot healthier t the moment.
Buy a new car – done! I have a 'new to me' Vauxhall Astra estate, and she's a bit of a beast. Much faster than my old Zafira with her 1.9 diesel engine, she's also pretty and I'm a little bit in love….and feeling poor now. I have no idea why I always say 'she' for cars by the way, I've been calling the Christmas tree a 'he' this week, maybe I am just a little bit odd…
Do a good job on my first blog Christmas gift guides – I'm almost at the end of doing these, and they've had a good reception so far. I'm especially proud of my Cornish Christmas gift guide, as I do like to support local companies where possible.
Have family time on holiday – We had a brilliant time away at our Silverspring Hideaway pod, some quality family time and I mostly stayed away from my blog. My favourite part of our holiday was Halloween, when we had a fire under more stars than I have ever seen and ate sweets and marshmallows.
Overall I've had a brilliant month, and since next month is December and Christmas I'm hoping it's an even better one. Here are my goals for December 2015.
Increase my stats and follower numbers – I always add this one, as it keeps me working on it.
Give the boys an amazing Christmas – well me and Si too, but Christmas is always extra special for children, and I love making memories for them.
Get posts drafted and scheduled – I want to do this before the holidays to make sure I'm not working and can enjoy family time more.
Use my treadmill a lot more – I still use it, but I've been so busy lately it is collecting duct, and if I want to keep strengthening my dodgy back I need to keep losing weight, and keep up the exercise.
Make a serious dent in my 47 reasons clothes – I wrote a 47 reasons why I will lose weight post a while ago about all the clothes I want to get back in to, and I want to be in to a lot of them over the next month – especially as my original target to empty the bag was the end of the year – gulp.
What are your plans and goals for this month?
Stevie x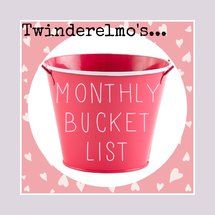 **To comment on this blog you do not need to leave your name, email address or website if you don't wish to. Any information entered will remain private and will not be shared with anyone other than the site owner.