Wow January, Bledhen Nowydh Da (Happy New year in Cornish – just don't ask me to pronounce it!) everyone, well it will be in a few hours! I hope you all have a fantastic 2016.
This is the last monthly bucket list I will write in 2015, and what a year it has been. I am in the midst of writing my year-long bucket list for 2016, which will be a list of everything I want to achieve and wish for in 2016.
Here is how I got on with my targets for this month:
Increase my stats and follower numbers
At the end of last month there had been 70841 site views on my blog, there have now been 77731  views to my blog since I started it in January this year – my first blog anniversary is on the 13th of this month! Last month I had my highest ever site views at over 12000, so they have dipped a lot over December, but I did actually give myself a lot of time off for a change and enjoyed family time. So I don't regret it a bit, and I am raring to go for January.
My Twitter was at 9200 followers and now I have 9832
My Facebook page was at 1142 likes, and now has 1206 – slowly but surely it's growing.
Instagram was 4241 now 4691

Pinterest was 3906 and now is at 4018
Tots 100 – Last month I was so thrilled to be number 118 out of over 8000 blogs, this month I was shocked that I am number 80! My highest ever ranking, and although I doubt I'll stay so high after a quieter month, I am very proud and happy. That's seven months now of being in the top 200, out of the 11 months I've been registered with tots.
Give the boys an amazing Christmas
Other than a split lip and a bit of bottle smashing, our Christmas day was brilliant. Very relaxed, the boys loved all their presents and we had some good quality family time just as it should be.
Get posts drafted and scheduled
I'm getting better at this now. I did a bit of scheduling recently, plus I have been organising 2016 and have a plan that will give me posts for once a week for most of the year that will be easy to schedule.
Use my treadmill a lot more
Complete and utter fail… we had weeks of people being ill and at home, and December was so manic blog wise I hardly left the sofa, a fact that my jeans aren't very happy about.
Make a serious dent in my 47 reasons clothes
Another complete failure, but am I sorry? Not really, I have had some delicious food in December, and I loved it all. January will be my month to kick-start everything again and I have decided to keep my 47 reasons why I will lose weight project open-ended, deadlines don't really work for me. I have a big incentive to lose weight though, which I will explain in a post very soon.
My bucket list targets for January 2016:
Increase my stats and follower numbers – as always, but I especially want to get over 10,000 on Twitter, it would be amazing if this happened before my 1st year anniversary on 13th January.
Lose weight – any weight, anything other than a gain will be an improvement on December.
Dust that poor treadmill off,
Book and organize Harley's 10th birthday for February – Hard to believe my 'baby' will be 10 in February eek, but I need to pin him down to what he actually wants to do and book somewhere for his party. Expensive where ever he chooses I expect, luckily he's worth it.
Have a big clean through – as pretty as Christmas decorations are, everything gets a lot more dusty in December as you can;t get to everything past all the Christmas cards and bits and bobs, so the house needs a deep clean.
Clean my oven – this comes under cleaning, but is so disgusting at the moment, that it's a mammoth task that deserves its own spot, and also one of my most hated jobs.
Get organized with my blogging – I have already made a start on this, but in 2016 I will be more organized and schedule posts when I can, so that I can have more time off at the weekends to spend doing things as a family. To do this, I need to be more focussed during the day, so that I get more done in 'office hours'.
That's it for now and plenty to be getting on with, as well as these I'll be working on completing my overall 2016 bucket list, which I first need to finish writing – I'm still in holiday mode!
Bledhen Nowydh Da (Happy New year)
Stevie x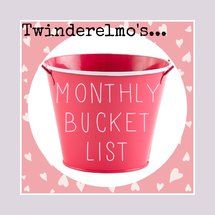 **To comment on this blog you do not need to leave your name, email address or website if you don't wish to. Any information entered will remain private and will not be shared with anyone other than the site owner.