Well it's the last day of August somehow, which means it's time for my monthly bucket list. It also means that early mornings are just a few days away yawn!
Here's how I got on this month and my aims for September 2015.
Increase my followers and stats as always.
When I wrote my last bucket list there had been 34365 site views on my blog, as of today there have now been 42950. Considering I have blogged less than usual over the school holidays, I'm thrilled to still have had over 8000 views.
My Twitter was at 5310 followers and now I have 6355
My Facebook page was at 726 likes, and now has 808, I'm always impressed when this one grows, as it's more of a struggle than any of the others I find!
Instagram was 2184 now 2690
Pinterest was 2706 and now is at 3271
Tots 100 – I am currently number 152 out of over 8000 blogs and although I have gone down from number 87, I am very proud to have been in the top 200 for the last three months!
Get organised for school – I am really hoping we have gotten everything sorted. I've spent a small fortune on everything that we needed, Fin's new uniform for secondary school was £100 just for the basics. and he has expensive taste in shoes. So whilst my bank account looks a bit sorry for itself, the boys will look very smart going back to school.
Give the boys a brilliant school holiday – I think I definitely succeeded with this one. We've been to all sorts of places including Paradise Park, Springfields, Flambards and more. We've had a lot of family time and I've really enjoyed having them home. After a rocky start for several reasons including everyone taking it in turns to be ill at the beginning of the holiday, it has turned out to be a brilliant one
Lose weight – I wrote a post 47 Reasons Why I Will Lose Weight and I am going to do it, but with the boys off and eating food on days out, so far I have managed to lose and put on and lose and put on the same 3lbs and back to exactly where I was at the start. I've decided to really work at it as soon as they are back at school, and we are back to normal eating routines.
Raise some more money for JDRF – the boys have raised £78.50 so far on our JustGiving page.
Finally dye my hair – I dyed it at last, but it needs re-doing already! I might even go to a hairdresser next time, I usually even trim my own hair, as I  struggle to find a hairdresser I trust.
Get my blogging organised – I have been much more organised lately, and now have a book to list all the posts I need to do each month in, where I can add new blog work to, and make sure I don't miss any deadlines. I've still not managed to get any posts scheduled rather than writing on the day, but I do have several half drafted ones saved which is a start.
For September my goals are:
Increase my stats and followers – as always including this one as I love being able to see how much growth I've had each month, and putting the numbers out in public makes me work hard at them.
Lose weight – as soon as the boys go back to school I have run out of excuses, and I am determined to get into all my 47 reason clothes.
Reorganise our cupboards and drawers – I have no idea how it happened, but our cupboards and drawers are so disorganised, I can never find anything and it drives me a little bit mad at times, so I am planning a spot of very late Spring cleaning!
Give Si a good birthday – he puts up with a lot from me, including meltdowns when my site has been down due to issues with hosting grrr (hopefully this will be sorted very soon) and my complete neglect at times, so I want to make sure he has a great day.
To NOT book any more holidays – we're off on our fourth staycation of the year, this time to a Pod near Constantine (still in Cornwall) where there's a heated outdoor pool – it's the end of the October half term we're going but we'll definitely be swimming and apparently we even have a giant Tortoise in our garden there.
I really can't wait, but we have a lot to pay for around the house and with the garden renovations so we really should stop booking holidays!
Clear out the boys' old toys – they have big inbuilt wardrobes in their room which are brilliant for storing most of their belongings, but at some point in the hopefully not too distant future we are swapping rooms with them.
Whilst our room is bigger for them, there will be less storage and really there is no point in hanging on to stuff that they never play with. So we'll be taking some stuff to the charity shop as it will do more good there than stuffed in the back of a wardrobe.
That's it for my goals for the next month, I've kept them pretty simple as with getting back into the school routine again (Fin starts secondary eek!) and with other stuff I have planned for the month, it's going to be a pretty busy one, but hopefully good.
What are your goals for the next month?
Stevie x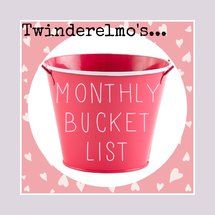 **To comment on this blog you do not need to leave your name, email address or website if you don't wish to. Any information entered will remain private and will not be shared with anyone other than the site owner.