Time for my usual monthly bucket list, where I look back over the previous month (in this case June 2016) to see how I got on with my goals for the month. I also set new goals every month and vow to actually try to achieve them.
Here is how my June went:
Increase my stats and follower numbers
At the end of May there had been 141,883 site views on my blog, there have now been 150,970 views to my blog since I started it in January 2015. This was actually a pretty quiet month for me view wise, but then I also posted less as we were away twice and I actually allowed myself some time off. I'm still happy with the numbers luckily.
My Twitter was at 14077 followers and now I have 14751
My Facebook page was at 1798 likes, and now has 1877
Instagram was 8920 now 9582

Pinterest was 4362 and now is at 4378 – I haven't done anything to my Pinterest in ages, definitely need to work on it.
Youtube – I had 313 subscribers, and I now have 353 subscribers.
Tots 100 – Tots decided not to update in June, so my Tots score hasn't changed – well it did go down one to number 50, but that was just a reshuffle of someone else's score. That's 13 months in the top 200 now, even if one of those months now was a 'freebie' :)
Lose weight
Well I did lose weight, a whole pound! Annoying as it was to only lose a lb I actually lost more, as I had to lose the weight that I put on at Butlin's. It also meant that I was officially no longer classed as being overweight – a brilliant feeling. After a couple of naughty days of eating, I may hold off on weighing for a few days though…
Have an epic weekend in London and at Britmums! 
I still need to write my Britmum's actual post, but I did write about not winning my Brilliance in Blogging award ha. We had a great weekend and it was amazing to finally meet so many of my blogger friends in person. It was  a crazy busy event and I missed seeing a few I was hoping to, but overall it was absolutely fantastic.
We also went to Warner Studios for a bit of Harry Potter geekery and oh my word I loved it.
Have lots of baby cuddles
I got to have some teeny baby cuddles, Lisa and Trev's new little man Hudson was overdue, so he was very much still a newborn when we went to visit. He is absolutely gorgeous, and we loved seeing Jack again now he's running around. The boys loved playing with him, and I so wish they lived closer to us as Newbury is very far from Cornwall!
Remember to take loads of photos at Butlins and have a great time there 
Yep I succeeded in this one, the boys loved our Butlin's break and seeing Diversity live was really something else.
Run as much as possible
Well…. not as much as possible, but I did run a lot more this month than I have been and I am now managing 15 minutes full pelt without a break on the treadmill. I know this is really not long for a lot of people, but for me it is the longest I have managed in years after all my back issues and I am planning to beat that time this month.
Sort my son's school play costume out
This was almost a disaster! Having been told by the school that he needed to dress as a man dressed as a woman… a Tudor woman, it was a bit of a challenge. Then after altering one of my old dresses and making a bit of a hash of a costume the night before it was due.
I then had a bad mum moment of guilt and went out and bought a less embarrassing costume for him. So it was sorted… eventually.
My goals for July are:
Increase my stats and followers as always 
Work on my Pinterest – I need to start remembering to do more pinnable images and just generally remember to use Pinterest. I need to have a tidy up of it too and get it more visually appealing.
Run on the treadmill for at least 20 minutes in one go – Like I said, not a lot for some people, but this will be a new record for me in recent years and a sign that my fitness is heading back to where it used to be.
Get back on the Slimming World bandwagon – I have been a lot more naughty in the last few days, but hopefully I can start afresh from Monday – I have got a chinese takeaway ordered tonight. With increasing my running time, hopefully I can kick-start my weight loss again.
Send my youngest off to camp properly equipped – You know when children go on school camp, the school give you a long list of equipment they'll need? Well my youngest goes away on Monday and I need to find that list again and actually buy what I need to.
Give Fin a good birthday – The day his brother goes to camp is also Fin's birthday, so with it being a school day as well it may not feel that special a day for him. I am determined he'll have a great evening and we'll be doing something as a family on the weekend before. He will be turning twelve crazily enough.
Get Scheduling – The school holidays start at the end of July and I would love to have some posts pre-scheduled so that I can take a bit more time off with my boys, without my blog suffering too much. I'll be taking the time off regardless though, some things are more important that anything else.
I hope you've all had a great month and have an even better July!
Stevie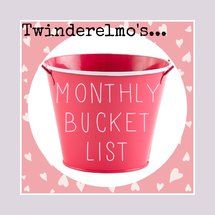 **To comment on this blog you do not need to leave your name, email address or website if you don't wish to. Any information entered will remain private and will not be shared with anyone other than the site owner.