This is my monthly bucket list, the post that keeps me organised every month in which I look back at the last month and see how I got on with the goals I had set myself, and set a few new goals for the next month – June 2016.
May has been a pretty amazing month for me, for so many reasons. Number one has to be that I am in the final of the Britmums Live brilliance in blogging awards in the Fresh Voice category eek, that means I have a 1 in 5 chance of actually winning an award. That is just mind blowing to me.
Anyway before I get sidetracked and daydreaming about actually winning…… and having to give a speech… is there such a thing as nightmaring?! – here is how I got on with last month's goals.
Increase my stats and follower numbers
At the end of last month there had been 131,403 site views on my blog, there have now been 141,883 views to my blog since I started it in January 2015. I love that I now get over 10,000 view every month and sometimes a whole lot more :)
My Twitter was at 13357 followers and now I have 14077
My Facebook page was at 1686 likes, and now has 1798
Instagram was 8281 now 8920

Pinterest was 4280 and now is at 4362
Youtube – I had 259 subscribers, and I now have 313 subscribers.
Tots 100 – Last month I was number 68 out of over 8000 blogs, I am now number 49 my highest ever rank which I am really proud of. That's 12 months in the top 200 now :)
Lose weight
At last success with this one! I have so far lost 6 lbs with Slimming World and I feel so much better for it.
Have Fun at the Blog Event
The blogging meet up at The Orangery Cafe here in Cornwall was fun and I got to meet several new bloggers, which was great. The location was also stunning.
Be all Packed for Butlins
As part of being a Butlins blogger ambassador this year, we are off to Butlins tomorrow – hence why my monthly bucket list has been published two days early. I intend to try and avoid even logging on to my blog for most of the week and have some proper family time. I am so looking forward to it, and if we aren't packed properly by now then I will currently be running around like a headless chicken in a panic ;)
Practice a lot more with my new camera
I am in love with my new camera, I haven't had the chance to practice with it as much as I would like, but I am actually using it without using the auto mode and gradually learning how it all works.
Run at least twice a week all month 
I have definitely done once a week every week and twice for 2 weeks, so much better than I thought I would be really ;)
My goals for June are:
Increase my stats and followers as always
Lose weight – I want to get closer to my goal weight.
Have an epic weekend in London and at Britmums! – Next month we are off to not only Harry Potter World (aka Warners studios) for a review visit, but also staying at a Premier in for a review in Watford, and I am also off to Britmums Live where I am a finalist in the Bibs blogging awards. Basically it will be a crazy busy, but hopefully a crazily good weekend.
Have lots of baby cuddles – When we go to London, after the Watford part we will be staying in Newbury to be near to Lisa and Trev our friends, who are due to have their second child very soon and I can't wait to see them, but also to have some baby cuddles!
Remember to take loads of photos at Butlins and have a great time there – I am all about the holidays this coming month, and being a review visit, I don't want to return home and realise I don't have the photos I need or want.
Run as much as possible
Sort my son's school play costume out – So I need to make him look like a manly woman with a Tudor twist…. yep wish me luck with that one!
I hope you've all had a great month and have an even better June!
Stevie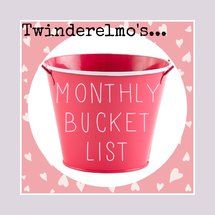 **To comment on this blog you do not need to leave your name, email address or website if you don't wish to. Any information entered will remain private and will not be shared with anyone other than the site owner.